Pick out from a rich offer of traditional fish specialties and meat dishes, seafood from our clean sea, popular international dishes such as pizza and pasta, and delicious desserts.
Lopar gastronomic offer is extremely rich – in some fifty restaurants, inns, taverns and pizzerias, you will find a range of fish, meat and vegetarian specialties.
Lopar inhabitants are very proud of their diverse vegetables cultivated ecologically in their own gardens. Many restaurants and taverns throughout Lopar have included domestically grown up potatoes or kumpiri and tomatoes or pumidori in their menus. Taste them if you have an opportunity, because their taste is recognisable due to the top quality, traditional cultivation and favourable soil of the Lopar Field. In addition to potatoes and tomatoes, you can order domestic lettuce, peppers, cucumbers, onion, garlic and other types of flavoury, healthy and rich vegetables from our Mediterranean region.
We put the gastronomic focus on the traditionally cultivated healthy food from the region and our offer is full of fish specialties as well as various shellfish meals prepared in a traditional manner. Some of traditional fish meals that used to be on the daily menus of our elderly Lopar inhabitants which are nowadays carefully prepared in our restaurants are codfish with potatoes, octopus, cuttlefish stew with macaroni, octopus salad, salted fish and octopus stew with polenta or cornmeal boiled in water. The gastronomic offer has been recently enriched with savoury stewed mussels and shrimps.
Besides the food from our clean Adriatic Sea, we also recommend you meat meals often prepared in a traditional way. Taste lamb baked in a traditional way in the fireplace covered with a clay bell, lamb with young potatoes as well as
pašticada
or stewed beef with gnocchi prepared from potato pasta.
In addition to traditional meals, you will also find a range of international meals such as various pizzas, pasta, meat and vegetarian portions, as well as gluten free diets. Croatian chefs have been enriching menus with domestic meals made of seasonal regional ingredients and therefore the best solution is to ask you waiter for an advice and to taste something new. We promise that you will not regret!
When it comes to a dessert, it is well worth tasting the Island domestic pastry such as fritula and hroštula prepared from the recipes of our grannies. If you are looking for some healthier sweets, do not miss dried figs. Recently cropped mature fruits are put on a mesh placed in a sunny and airy place, where they are kept for 6 day and turned every second day. When the fig is completely dried it is immersed in boiling sea water. You are really going to love them!
Rab inhabitants are especially proud of their well-known Rab Cake made of almonds that was prepared for the first time in 1177 when, according to the legend, the Pope Aleksandar III, escorted with ten galleys, decided to find a shelter here to avoid a shipwreck caused by a storm. A curious fact about the Rab Cake is that the original recipe is safeguarded by Benedictine nuns in St Andrew Monastery written in the original calligraphy glowing in its pure beauty.
It is always recommended to pair all those culinary delights with a glass of good wine or a shot of domestic schnapps! Enjoy your meal!
Paradise samba festival - Lopar
Our Paradise Beach has a compelling resemblance to famous Brazilian Copacabana, so what better place to choose for the home of a Festival of Samba?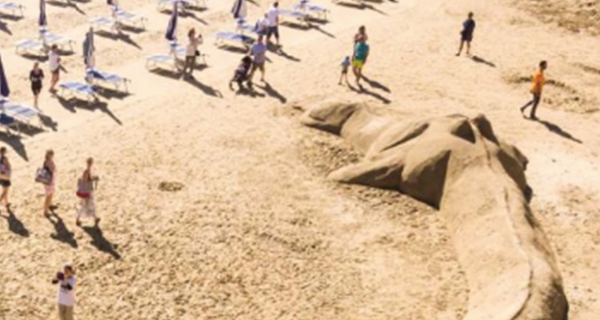 Festival of sand sculptures
Every June the Paradise Beach, becomes an open-air atelier for young artists who are building original sand sculptures during our Festival of Sand Sculptures
MITAS 4 islands is a thrilling mountain bike race over 4 islands of Kvarner Bay. A race where islands are stages, goat paths are trails and the sea plays hide and seek!
Join us at the Christmas Fair on December 15, 2022. from 10 a.m. in front of the elementary school in Lopar!
Make our children happy!
 
Nastala je umjetnička staza Fruga Art Trail koja poziva posjetitelje na šetnju Premužićevom stazom na visoravni kako bi otkrili krajobrazne umjetničke projekte na različitim lokacijama.
AEROBIC acitivities on beach
PARADISE BEACH ČRNIKA - Monday - Saturday 10am
LIVAČINA BEACH- Monday - Wednesday - Friday from 5pm
GORNJI MEL BEACH - Thuesday and Thursday from 5pm
Merry Christmas and a Happy New Year 2022!
The Sand Sculpture Festival is being held on the beautiful Rab beach this year as well, from June 28th to July 1st!
Join us!
The Lopar Geomorphologic Garden, part of the Rab Island Geopark, with a total of 50 marked geological points, is rich in geologically interesting features and rare flora
Rab Island Trail is one of the most popular racetracks in the Croatian Trekking League, which has been held since 2007. Participants participate in 3 categories for men and 3 for women.
Join us on October 1th!
The celebration begins early in the morning (September 8), when pilgrims accompanied by numerous tourists gather around the Church of the Nativity of the Blessed Virgin Mary, and services are held at 10:00, 15:00 and 17:00.
(The Masquerades of Lopar) are the pride of the village since their tradition is over 150 years old. Lopar is the only village in the island of Rab that has preserved and nurtured the carnival tradition, with authentic masquerade and rituals.
Paradise Beach is becoming a surreal world of breathtaking sand sculptures! Participate in our sand sculpture festival and enjoy the art of making sand sculptures!
The project Rab Archaeological (T)races was developed on the idea of an open-air museum, presenting about 30 archaeological sites in the area of the island of Rab.
For all those who want to spend their sunny vacation actively, indulge in the adventurous and sporting spirit and relax on the island of Rab.
We offer a number of modern sports fields, including tennis courts and an indoor soccer field with artificial grass.
Lopar offers daily half-day boat trips with a glass bottom in the waters of Lopar and Goli Otok and Grgur.
Special features of Lopar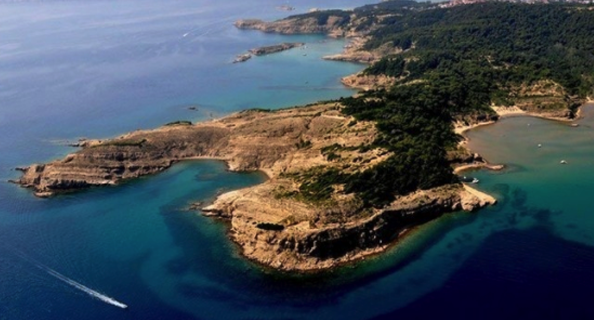 An oasis of natural beauty