Although the Croatian is one of the most beautiful in the world, with a multitude of islands, islets, beautiful beaches and hidden coves, sandy beaches are a real rarity. This is why there are only a few sandy oases from the north of Istria to the south of Dalmatia. The best known, biggest and most beautiful sandy beach in Croatia, bar none, is Rajska plaža in Lopar (island of Rab). Lopar has an abundance of beautiful sandy beaches, in fact, there are 22 of them, of which 3 are nudist beaches (Ciganka, Sahara and Stolac). The largest and most famous is the Rajska plaža or 'Paradise Beach', which is 1.5km / 0.9m long and has the most tourist facilities and which was awarded the 'Blue Flag' in 2003 – the international symbol of quality and preservation of the natural environment as well as safety for the bathers. 'Paradise beach' is especially interesting for older people, families with children and less proficient swimmers, but equally for young people keen on sport and amusement. At the height of the season it can be difficult to find sunbathing places on this beach because together with the tourists from Lopar, more than 50% of visitors to the town of Rab also bathe here.
At the very edge of the sea, in the shade of poplar trees, nestles the camp site 'San Marino' whose extraordinary ambiance provides an ideal place for relaxation. Its capacity is 3500 tourists and it offers a variety of catering services, shops, a market place, a fish market, a bakery, a tobacconist, gas bottling and various recreational sport facilities. The hotel village 'San Marino' is situated on the other, northern, side of  'Paradise beach' in a beautiful pine wood and with an even more stunning views of the sea. It consists of five hotels (Plaža, Veli Mel, Lopar, Rab and Sahara) with a total capacity of 1100 beds in modern, well equipped rooms and with a communal restaurant, aperitif bar, dance terrace, souvenir and newspaper shop and hairdressers. There are also many sports facilities such as tennis, table tennis, mini-golf, a trim-track, etc.
Not far from 'Paradise beach' there is another sandy beach known as Livačina, which many consider to be even more attractive. In the shade of the pine trees you can find several catering establishments which offer a variety of local specialities. There is also a very good assortment of beach and sea equipment for hire including the ever popular jet-ski, para-sailing, board sailing, rent-a-boat or canoes, pedalos and an aquapark
In the nearby Lučica ('Little harbour') there are moorings for about 100 vessels (speed boats and yachts) with lifting, landing and vessel cleaning services as well as refreshments for tourists heading to or coming from the sea.
The AQUAGAN is a monumental structure in the uttermost southern area of  'Paradise beach' , whose three giant water slides offers endless enjoyment to tourists, particularly those younger ones.
'Paradise beach' proved to be an ideal location for beach volleyball, which is why Lopar has for many years successfully hosted tournaments in Croatian championships, the Alpe-Adria Cup and others and has big future plans for this attractive sport
The other well-known sandy beaches in Croatia, we would like to mention the following:
Crni Molo (Crikvenica)
Bijeca (Medulin)
Saharun (Dugi otok)
Sabuša (island of Ugljan)
Zaton (near Zadar)
Crvena (Biograd na Moru)
Sabunike (Nin)
Slanica (island of Murter)
Vela Pržina (island of Korčula)
Šimuni (island of Pag)
Zlatni rat (island of Brač)
Paradise samba festival - Lopar
Our Paradise Beach has a compelling resemblance to famous Brazilian Copacabana, so what better place to choose for the home of a Festival of Samba?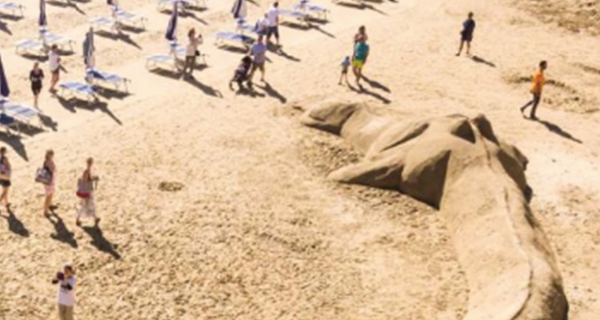 Festival of sand sculptures
Every June the Paradise Beach, becomes an open-air atelier for young artists who are building original sand sculptures during our Festival of Sand Sculptures
MITAS 4 islands is a thrilling mountain bike race over 4 islands of Kvarner Bay. A race where islands are stages, goat paths are trails and the sea plays hide and seek!
Join us at the Christmas Fair on December 15, 2022. from 10 a.m. in front of the elementary school in Lopar!
Make our children happy!
 
Nastala je umjetnička staza Fruga Art Trail koja poziva posjetitelje na šetnju Premužićevom stazom na visoravni kako bi otkrili krajobrazne umjetničke projekte na različitim lokacijama.
AEROBIC acitivities on beach
PARADISE BEACH ČRNIKA - Monday - Saturday 10am
LIVAČINA BEACH- Monday - Wednesday - Friday from 5pm
GORNJI MEL BEACH - Thuesday and Thursday from 5pm
Merry Christmas and a Happy New Year 2022!
The Sand Sculpture Festival is being held on the beautiful Rab beach this year as well, from June 28th to July 1st!
Join us!
The Lopar Geomorphologic Garden, part of the Rab Island Geopark, with a total of 50 marked geological points, is rich in geologically interesting features and rare flora
Rab Island Trail is one of the most popular racetracks in the Croatian Trekking League, which has been held since 2007. Participants participate in 3 categories for men and 3 for women.
Join us on October 1th!
The celebration begins early in the morning (September 8), when pilgrims accompanied by numerous tourists gather around the Church of the Nativity of the Blessed Virgin Mary, and services are held at 10:00, 15:00 and 17:00.
(The Masquerades of Lopar) are the pride of the village since their tradition is over 150 years old. Lopar is the only village in the island of Rab that has preserved and nurtured the carnival tradition, with authentic masquerade and rituals.
Paradise Beach is becoming a surreal world of breathtaking sand sculptures! Participate in our sand sculpture festival and enjoy the art of making sand sculptures!
The project Rab Archaeological (T)races was developed on the idea of an open-air museum, presenting about 30 archaeological sites in the area of the island of Rab.
For all those who want to spend their sunny vacation actively, indulge in the adventurous and sporting spirit and relax on the island of Rab.
We offer a number of modern sports fields, including tennis courts and an indoor soccer field with artificial grass.
Lopar offers daily half-day boat trips with a glass bottom in the waters of Lopar and Goli Otok and Grgur.
Special features of Lopar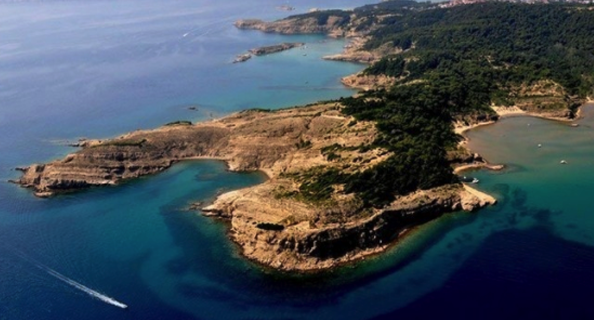 An oasis of natural beauty