Lopar is indeed a SAND PARADISE!  Miles of golden sand has been the trademark of Lopar and island of Rab for years since no other place in the Adriatic Sea is so well endowed with beautiful sandy beaches. Their number and diversity will meet different and the most demanding expectations.
A chain of 22 sand beaches and many more small, picturesque bays and coves, usually with the sandy seabed, surround the Lopar peninsula and the nearby islands. Some of the beaches can be reached by car. Others you will have to discover on foot or by a boat. Chose your destination for the day and get a taxi boat at port Lučica or rent-a-boat.
Beaches of Lopar welcome first swimmers already in May. The sea gets warm quickly in the spring sun, thanks to the shallow sandy seabed, so the swimming season opens early in May and lasts until late October, much longer than in other Adriatic destinations. Shallow waters have another advantage – the safety, especially safety for non-swimmers and kids, which can enjoy a carefree play in the sand and warm shallow sea.
The biggest and the most famous beach of island Rab is definitely the Paradise Beach (known as "Rajska plaža"). A bit less known, but equally popular among our guests are beaches Livačina, Stolac, Sahara, Mel and many others. You can chose between large beaches with full touristic infrastructure (bars and restaurants, deck-chairs and parasols, water sports and other entertainment) and other, smaller and more intimate beaches, sand or pebbles, with less or no touristic infrastructure at all, where you can fully immerse in the nature and merge with the environment.
Read more about Paradise beach HERE. 
The Island of Rab has been the pioneer of naturism in the Mediterranean, with English royal family enjoying skinny-dipping in the early 20th century. Lopar has been on board with that trend ever since so nudists have always been welcome here and for their privacy and pleasure there are 3 FKK beaches: Ciganka and Sahara are nudism friendly (FKK allowed) and beach Stolac is nudist exclusive (FKK only).
Read more HERE.
For physically challenged and for disabled, there are several ramps along the Paradise Beach, for their easier access into the sea.One thing we are sure of is that here you will find a beach to fall in love with and the swimming in our beautiful clear sea will become a treasured experience in your memories. Make sure you don't stop at the first beach but explore more of them. Start with the Paradise Beach and take the tour to Livačina, Stolac, Sahara, Podšilo, Dubac, Sturič, Ciganka, Sić, Crikvena, Dražica, Mel etc.
Next to Paradise Beach is another very popular beach called Livačina. You will find refreshment in several restaurants, conveniently scattered among pine trees, where the food is good and the beer is cold.
Beach equipment can be rented, so no need to carry much, but the swimsuit and sunscreen. Livačina is in the same bay as Paradise Beach, however, it is less crowded and more suitable for chilling and relax.
You can get here in your car if you don't want to bother walking. But take a walk. Enjoy it.
If you are looking for a more intimate beach and peaceful stay on a beach with fewer people around, this is the spot where you need to leave your vehicles and continue on foot towards other beaches of Lopar peninsula. Make sure you wear a hat.
No nudism. No dogs allowed.
Sturič is one of the most spectacular sand beaches on the north side of the Lopar peninsula, facing island Grgur.
It consists of two gorgeous sand bays which can be reached on foot (5' walk from a parking spot in pine tree shadows) or by a boat (taxi boat, rent-a-boat). The beach is known for its intact nature and perfectly clear sea, so an unforgettable experience is guaranteed.
Dogs are not allowed.
Nudism is not allowed.
Paradise samba festival - Lopar
Our Paradise Beach has a compelling resemblance to famous Brazilian Copacabana, so what better place to choose for the home of a Festival of Samba?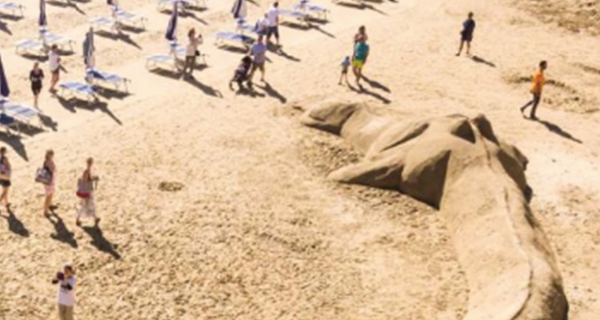 Festival of sand sculptures
Every June the Paradise Beach, becomes an open-air atelier for young artists who are building original sand sculptures during our Festival of Sand Sculptures
MITAS 4 islands is a thrilling mountain bike race over 4 islands of Kvarner Bay. A race where islands are stages, goat paths are trails and the sea plays hide and seek!
Join us at the Christmas Fair on December 15, 2022. from 10 a.m. in front of the elementary school in Lopar!
Make our children happy!
 
Nastala je umjetnička staza Fruga Art Trail koja poziva posjetitelje na šetnju Premužićevom stazom na visoravni kako bi otkrili krajobrazne umjetničke projekte na različitim lokacijama.
AEROBIC acitivities on beach
PARADISE BEACH ČRNIKA - Monday - Saturday 10am
LIVAČINA BEACH- Monday - Wednesday - Friday from 5pm
GORNJI MEL BEACH - Thuesday and Thursday from 5pm
Merry Christmas and a Happy New Year 2022!
The Sand Sculpture Festival is being held on the beautiful Rab beach this year as well, from June 28th to July 1st!
Join us!
The Lopar Geomorphologic Garden, part of the Rab Island Geopark, with a total of 50 marked geological points, is rich in geologically interesting features and rare flora
Rab Island Trail is one of the most popular racetracks in the Croatian Trekking League, which has been held since 2007. Participants participate in 3 categories for men and 3 for women.
Join us on October 1th!
The celebration begins early in the morning (September 8), when pilgrims accompanied by numerous tourists gather around the Church of the Nativity of the Blessed Virgin Mary, and services are held at 10:00, 15:00 and 17:00.
(The Masquerades of Lopar) are the pride of the village since their tradition is over 150 years old. Lopar is the only village in the island of Rab that has preserved and nurtured the carnival tradition, with authentic masquerade and rituals.
Paradise Beach is becoming a surreal world of breathtaking sand sculptures! Participate in our sand sculpture festival and enjoy the art of making sand sculptures!
The project Rab Archaeological (T)races was developed on the idea of an open-air museum, presenting about 30 archaeological sites in the area of the island of Rab.
For all those who want to spend their sunny vacation actively, indulge in the adventurous and sporting spirit and relax on the island of Rab.
We offer a number of modern sports fields, including tennis courts and an indoor soccer field with artificial grass.
Lopar offers daily half-day boat trips with a glass bottom in the waters of Lopar and Goli Otok and Grgur.
Special features of Lopar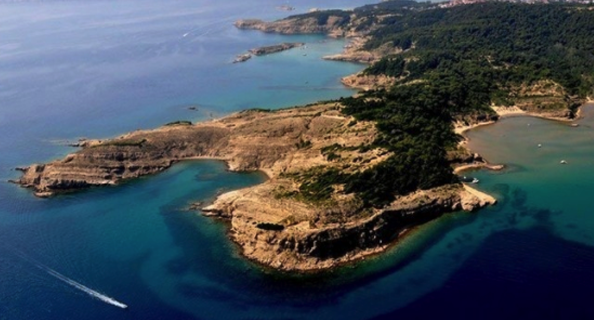 An oasis of natural beauty