Try the Aquagan water slide, the Aquapark water park, jet ski or pedal boat rides, parachute and semi-submarine rides and a variety of facilities at the Lopar Entertainment and Recreation Center.
SUP Recreational, amusement and entertainment facilities are irresistible parts of our touristic offer taking into consideration especially children and youth that use to visit our amazing Lopar. Lopar sand beaches are ideal for numerous amusement and entertainment activities counting with a wide sand area, shallow warm sea and numerous long sunny summer days!
There is a lot to choose for everyone who likes to have fun!
It is not easy to find a kid who does not like slides or an adult who can resist our Water Chutes. Our Sea Water Chute Park is bursting with fun for all the generations. It is a place of endless joy for children and unrestrained laughter for grown-ups. Treat your family with unforgettable moments and memorize them with photos you are going to enjoy seeing again and again!
In the middle of the Paradise Beach, next to the sunbathing area, you will find the Sea Water Chute Park brimming with water toboggans, obstacles and adventures. It looks so simple and easy, but is it, indeed?
You know exactly where to go or you wish to explore Lopar hidden bays, but you do not know how? It is not a problem, since there is a whole range of crafts to rent – pedal boats, jet-skis, kayaks, SUP or boats. Alongside the Paradise and Livačina beaches, you can find all the kinds of sea or road crafts to rent.
If you are more eager to rise your adrenalin, you can be drawn by a speed boat in a parachute, tube or on a banana. You just have to get a crew together, and we guarantee you fun and laughter!
For those with a sense of adventure and eager for new experience, sometimes unpredictable, but always fascinating – our advice is to take a sea kayak tour. With kayak you can explore the whole Lopar Peninsula, Kalifront Forest, Rab Geo Park or the whole Island of Rab. Routs are numerous – you should just take a chance and you will never regret!
Lopar Recreational and Amusement Park (ZRC Lopar) is situated just a few meters from the Paradise Beach offering a lot of amusement, competition, laughter and relaxing! Foosball and pool tables, darts, car race games, a mini lunar schooner, trampolines, inflatable castles or small electric cars and motorcycles to rent are waiting for you.
Explore Lopar in an attractive touristic train that will take you throughout the settlement from San Marino area to the Lopar Ferry Port showing you a look at Lopar from another angle. A touristic train drive lasts 10 minutes passing a 2 km long route in one direction. Between two final stops placed at Rtić or San Marino and the Lopar Port (ferry port), you can take on and off at two more stops. When we put the amusement aside, you can use the touristic train as a connection to the ferry and catamaran lines calling at the Lopar port!
We invite you to research a part of the Lopar underwater life taking a 35 minutes long diving in a semi-submarine. Daylight and night submarine dives offer you unforgettable experience during which you can enjoy watching fish, seaweeds, shellfish and other amazing scenes of the sea world. The semi-submarine sets off from San Marino Port placed at the southeast of Lopar, just after the one of the most beautiful beaches in the world, the Paradise Beach, heads around the tiny island of Lukovac, continues towards the Kaštelina Bay and returns to the San Marino Port. Up to 12 passengers can board on. Find all the information on the departure schedule, prices and similar at https://www.lopar-vrutak.hr/turisticke-usluge/
Amusing and recreational animations can be jointed on the Paradise, Livačina and Mel Beaches every day. Stretch and dance with our animators listening some good music during the later afternoon hours and refresh in the clean and refreshing sea afterwards.
There are children playgrounds all over the parks and beaches throughout Lopar. You can find a pirate ship, a train, locomotives, climbing nets, swings, slides, tunnels as well as all the other children fun equipment that are excellent and always interesting entertainment for children, while their parents enjoy their playing looking after the youngest.
Paradise samba festival - Lopar
Our Paradise Beach has a compelling resemblance to famous Brazilian Copacabana, so what better place to choose for the home of a Festival of Samba?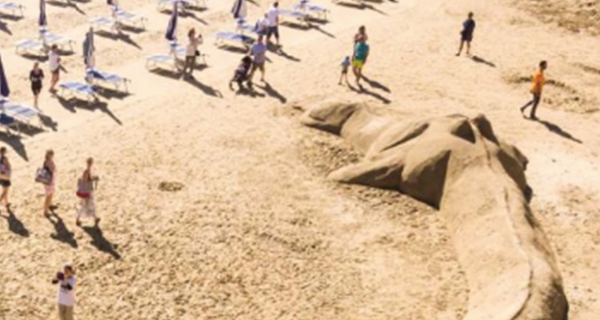 Festival of sand sculptures
Every June the Paradise Beach, becomes an open-air atelier for young artists who are building original sand sculptures during our Festival of Sand Sculptures
MITAS 4 islands is a thrilling mountain bike race over 4 islands of Kvarner Bay. A race where islands are stages, goat paths are trails and the sea plays hide and seek!
Join us at the Christmas Fair on December 15, 2022. from 10 a.m. in front of the elementary school in Lopar!
Make our children happy!
 
Nastala je umjetnička staza Fruga Art Trail koja poziva posjetitelje na šetnju Premužićevom stazom na visoravni kako bi otkrili krajobrazne umjetničke projekte na različitim lokacijama.
AEROBIC acitivities on beach
PARADISE BEACH ČRNIKA - Monday - Saturday 10am
LIVAČINA BEACH- Monday - Wednesday - Friday from 5pm
GORNJI MEL BEACH - Thuesday and Thursday from 5pm
Merry Christmas and a Happy New Year 2022!
The Sand Sculpture Festival is being held on the beautiful Rab beach this year as well, from June 28th to July 1st!
Join us!
The Lopar Geomorphologic Garden, part of the Rab Island Geopark, with a total of 50 marked geological points, is rich in geologically interesting features and rare flora
Rab Island Trail is one of the most popular racetracks in the Croatian Trekking League, which has been held since 2007. Participants participate in 3 categories for men and 3 for women.
Join us on October 1th!
The celebration begins early in the morning (September 8), when pilgrims accompanied by numerous tourists gather around the Church of the Nativity of the Blessed Virgin Mary, and services are held at 10:00, 15:00 and 17:00.
(The Masquerades of Lopar) are the pride of the village since their tradition is over 150 years old. Lopar is the only village in the island of Rab that has preserved and nurtured the carnival tradition, with authentic masquerade and rituals.
Paradise Beach is becoming a surreal world of breathtaking sand sculptures! Participate in our sand sculpture festival and enjoy the art of making sand sculptures!
The project Rab Archaeological (T)races was developed on the idea of an open-air museum, presenting about 30 archaeological sites in the area of the island of Rab.
For all those who want to spend their sunny vacation actively, indulge in the adventurous and sporting spirit and relax on the island of Rab.
We offer a number of modern sports fields, including tennis courts and an indoor soccer field with artificial grass.
Lopar offers daily half-day boat trips with a glass bottom in the waters of Lopar and Goli Otok and Grgur.
Special features of Lopar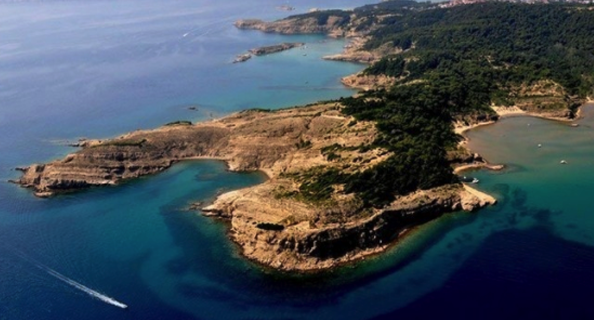 An oasis of natural beauty